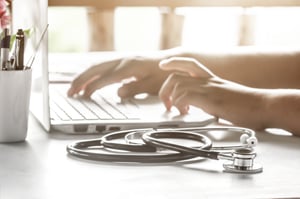 An American College of Physicians (ACP) paper titled "Putting Patients First by Reducing Administrative Tasks in Health Care" estimated the annual costs for excessive administrative tasks total $40,069 per full-time equivalent (FTE) physician.
The administrative tasks addressed include:
2 hours for every hour a physician speaks with a patient
3 to 5 hours of billing and insurance-related (BIR) activities
6.5 hours per week on EHR documentation.
Here are three strategies to help make these tasks more efficient:
Strategy 1: Use a Cloud-Based Electronic Health Record (EHR) System Handled by Competent Staff
According to the Center for Disease Control and Prevention (CDC), 78% of office-based physicians are using EHR systems. However, the efficiency in using these systems varies widely among practices and facilities.
According to the National Center for Health Statistics (CDC-NCHS), it takes an average of 4,000 total mouse clicks or 43% of physician time just to document patient records and charting functions.
You can reduce IT problems, increase efficiency, and speed-up your medical claim process through the use of a cloud-based EHR system handled by a competent administrative staff.
Strategy 2: Outsource Your Medical Billing Tasks
Outsourcing your medical billing is a great way to:
Reduce overhead costs
Expedite the medical claims process and increase net revenue
Focus on your core services
Choosing a quality medical billing company with a proven track record of reducing administrative tasks, along with increasing your net revenue, allows you to focus on your core services and improve the quality of those services.
Strategy 3: Prioritize and Delegate Tasks
Emphasize individual and team responsibilities. NBA Hall of Fame coach Phil Jackson said, "The strength of the team is each member. The strength of each member is the team." This aptly applies to your administrative staff.
Know the skill set of your staff. Identify their strengths and weaknesses. Based on these qualities, assign the roles that will make them most effective. If needed, enlist the help of your medical billing company to assist in devising a strategic plan to improve your team's efficiency.
Erase the idea of procrastination. Work as a team by choosing someone who will monitor the assigned tasks of each member. Strictly implement guidelines to insure tasks that should be done today will not be left undone until tomorrow.
Challenge your excuses and act today on these tips and recommendations to help improve your medical billing process. Subscribe to our blog to receive more medical billing tips, news, and insights, or complete our online form to leave us a message.
About ClaimCare
ClaimCare aids you with your medical billing tasks through its complete medical billing solution. We offer the best-of-breed technology, including HIPAA compliant EHR System, and an airtight medical billing process with actionable reporting. For more information, email us at sales@claimcare.net or call (855) 376-7631.