Vascular Surgery Billing Services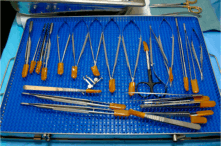 ClaimCare Medical Billing Services has deep expertise in vascular surgery billing and this expertise can generate significant value for your medical practice. Medical billing is a critical service that supports vascular surgeons by submitting claims and collecting payments from insurance companies and patients. Medical billing specialists need to be experts in vascular surgery billing to guarantee that the claims are paid in full and in a speedy manner. It is quite common for over 20% of a practice's collectible revenue to remain unclaimed because of improper coding and ineffective collection tactics.
Outsourcing medical billing is growing in popularity as a method for addressing this remarkable loss of practice income. The range of outsourcing options runs from exceedingly large organizations to individual freelancers working from home to provide medical billing services.
Medical billing is a highly complex area and it requires experience-based knowledge and expertise to contend with insurance companies. When it comes to vascular surgery billing, the situation gets even more complex. Such complexity can be handled only by a company that is staffed with well trained vascular surgery billing professionals. The medical billing specialist must be familiar with the specific codes and rules that make up the world of vascular surgery billing.
With vascular surgeons facing ever increasing costs they must insure that money is not being left on the table because they have a medical billing company that is not a vascular surgery billing expert. Surgeons must also be aware that that many medical billing companies that claim vascular surgery billing expertise actually outsource their vascular surgery billing work to at home billers. Situations like this are fraught with risk since the remote workers are not working in a controlled and monitored environment.
A key battle ground in the struggle to collect all of the money due a vascular surgeon is appealing denied claims and answering extremely specific and technical questions about procedures and diagnoses. Success In this arena requires significant experience, the kind that is only gained from serving many vascular surgeons for several years.
A company that does not encompass a wide range of vascular surgery billing experience will find it difficult to track underpayments since multiple procedure rules and vascular surgery procedures have significantly more complicated contractual adjustments than a typical family doctor or general surgeon's claims. In addition, the billing software and system design of many billing companies will often be insufficient for the more complicated requirements of reporting and insurance follow-up required in billing for vascular surgeons.
The vascular surgery-driven difficulties of medical billing encompass patient billing also. A vascular surgeon's patient balance process is more challenging because most of the balances are quite sizable. Coupling this with the difficulties of explaining to a patient their complicated Explanation Of Benefits and the vascular surgery terminology on their bills drives the need for patient collection specialists that have a strong expertise in vascular surgery billing. If patients are not handles with care then surgeons will see their patient collections fall and their patient complains rise - not a good combination.
The safest way for a vascular surgeon to navigate the medical billing land mines outlined above is to travel the vascular surgery billing battlefield with a medical billing service like ClaimCare that has deep and proven expertise in traversing the vascular surgery billing hazards.
To learn more about how ClaimCare Medical Billing Services can help your vascular surgery practice please fill out the form to the left or contact a local ClaimCare office.