ClaimCare Provides A World-Class EMR That Has Received Rave Reviews From Physicians
Many practices want to streamline their operations, improve compliance and enhance their ability to provide high quality patient care through the use of Electronic Medical Record Software (EMR). Unfortunately, this typically means spending tens of thousands of dollars in software and hardware. The training alone can cost $2,000 day!
Furthermore, most EMR implementations do not live up to their promise and everyone has heard the horror stories of tremendous amounts of time and money wasted on Electronic Medical Record Software implementation. This leaves a practice considering an EMR faced with some difficult questions:
Do we believe the benefits of an EMR justify the price (and the risk)?

Do we know exactly what we want from an EMR and to which product we are ready to commit?

Will the EMR work as promised?

Will the EMR work well with our practice management system?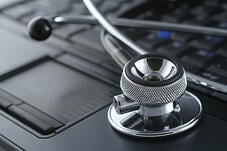 ClaimCare has an EMR solution that eliminates the risk and the outrageous cost. ClaimCare offers proven Electronic Medical Software as a part of the billing service. Our EMR has received rave reviews from physicians and provides the functionality most practices need (click here to learn more about our EMR). With ClaimCare's EMR there is no long term commitment and no investment in hardware.
You receive customized Electronic Medical Record Software. You receive office training. It is all part of our service. If you like ClaimCare's EMR then you keep using it. If you do not like ClaimCare's EMR then you stop using it and can pursue another EMR. The difference is you did not spend thousands of dollars. Think of it as an intelligent EMR test drive.
To learn more about how ClaimCare's EMR can help you practice achieve the benefits of Electronic Medical Record Software without the risks please fill out the form at the top of this page or call a local ClaimCare office.