Occupational Medicine Billing Services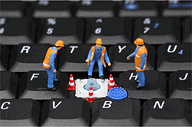 Occupational Medicine billing is well understood by ClaimCare Medical Billing Services. Our understanding and expertise in this complicated field can save your practice a considerable amount of lost revenue. Medical practices lose money every single day (often over 20 percent of their realizable income) because they are not utilizing medical billing specialists, technologies, processes and management that can compete with insurance companies.
Medical billing outsourcing is a growing trend that medical practices and facilities are employing to level the playing field with insurance companies. Potential outsourcing options start with individual medical billers working from their home to medical billing companies with thousands of clients.
Although the complexity of basic medical billing is quite high, it pales in comparison to the complications that come into play for occupational medicine billing. Successful navigation of the payers' policies and procedures for paying occupational medicine claims requires specialized knowledge that comes from experience with billing for occupational medicine practices.
The choice of an experience medical billing company has become all the more important for occupational medicine practices as they watch their cost rocket upwards. With their margins shrinking they must be confident that their medical billing service is collecting every dollar owed. Selecting the proper medical billing service is made all the more difficult by the fact that many companies claiming to be experts in billing for occupational medicine actually do not do the billing themselves, but outsource the work to other vendors that are based in India or work from their homes.
One of the major drawbacks of hiring a medical billing company that does not specialize in occupational medicine billing is their lack of familiarity with the procedures and the terminologies used. Even if the medical billing company serves one or two occupational medicine clinics, they will lack the depth and breadth of expertise required for successful occupational medicine billing. Moreover if the hired company does not specialize in billing for occupational medicine, then they will not have the expertise to effectively appeal denied claims or answer questions raised by the insurance companies.
Good occupational medicine billing requires the ability to track underpayments. This requirement often exceeds the capabilities of the billing software used by many billing companies. This is a critical failing since proper pursuit of underpayments can increase a occupational clinic's collections by 7 to 10 percent.
The occupational medicine-driven difficulties of medical billing are especially acute around workers comp and motor vehicle claims. Understanding how to properly bill these claims and deal with the myriad of worker comp insurance companies requires significant skill and experience.
The bottom-line: It is not worth the risk for a occupational medicine clinic to use a billing company that does not focus on occupational medicine billing.
To learn more about how ClaimCare Medical Billing Services can help your occupational medicine practice please fill out the form to the left or contact a local ClaimCare office.