Medical Billing Online Dashboard Reports

Medical billing online dashboard reports displays information like the dashboard in your car, giving you a quick and easy to read insight into the performance of your account. ClaimCare provides you with fully customizable medical billing online dashboards that show at a glance if there are any issues with your account and if you are on track to hit your weekly, monthly and annual goals in terms of patient volumes, procedure mixes, collections, days in AR, AR over a certain age, etc. ClaimCare can set you up with these dashboards even if you decide not to use any of the other services we offer. Here is a sample dashboard (click on image to enlarge):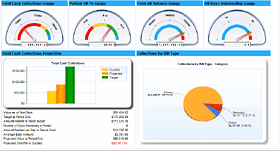 Our medical billing online dashboard is a complete web based reporting solution delivering all types of on demand reports and analysis tools. You can run reports for the entire organization or focus on individual locations or physicians. Our unique medical billing online dashboards keep you up to date and in control with turnkey analysis that is available online anytime from anywhere.
On Demand Operational Reports
Revenue Cycle Analysis Reports
Medical Billing Customer Reports
Executive Dashboards
Performance Management Tools
KPI Benchmarking
Business Intelligence Reports
Enterprise "Roll-up" and Divisional Reports
A wealth of analyzed medical billing online information in minutes
Medical billing online dashboard reports can be displayed as interactive tables, charts, graphs and gauges on dashboards
Simply point and click your way through layers of online medical billing data to produce more detailed views
Includes Scorecards, Alerts, OLAP
Export to PDF or Excel
We can create medical billing online reports unique to your organization
To learn more about ClaimCare's medical billing online dashboard please fill out the form at the top of the right column or contact a local ClaimCare office.