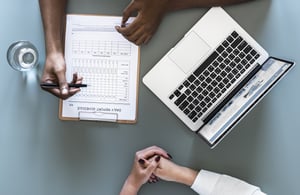 Denial of claim is defined in the Health Insurance Glossary as "the refusal of an insurance company or carrier to honor a request by an individual (or his or her provider) to pay for health care services obtained from a health care professional."
This is one of the most pressing problems the healthcare industry is facing today, resulting in a reported loss of net patient revenue ranging from 1 to 5% for your practice, or around two to three million dollars yearly for an average 300-bed hospital.
Although these denials can be appealed and reworked, physician practices spend approximately $25 cost per claim just for this to be completed. Sadly, the success rates for these appealed claims vary from 55% to 98% depending on the capability of a practice's medical denial management team.
A bird's-eye view of just how much money can be lost by denied claims is posted in the chart below, supplied by the American Association of Family Physicians (AAFP):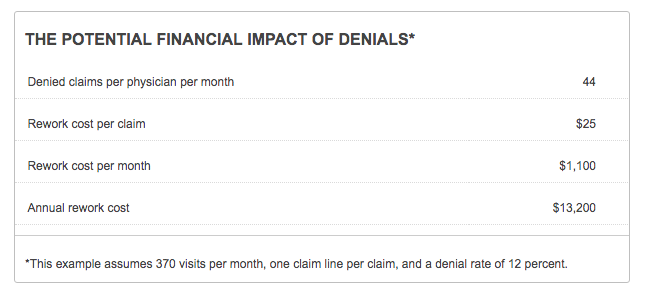 How to Fix Common Medical Billing Errors for Increased Revenue
You can reduce the rate of your medical billing denials with these following recommendations:
1. Complete all the necessary fields of your medical claim.
61% of initial medical billing denials and 42% of denial write-offs are due to submitting a medical claim with missing or incorrect demographic information and incorrect plan code. Thus, it is important for your staff to perform due diligence when submitting your claims. This means verifying that all the information needed in the form is filled out properly.
Do this faster and more efficiently with a scrubber that can check the coding, bundling, and procedure information on your claim prior to submitting it to the payer.
2. Never resubmit claims on the same date.
Resubmitting claims on the same date to the same provider for the same beneficiary, even if all entries are complete, is one of the biggest reasons for a Medicare Part B claim denial. Avoid this by encouraging your staff to double-check if a claim has already been submitted before filing another.
Motivate them to practice this protocol by choosing software with a user-friendly interface. This makes it easier for them to track and check the status of your claims.
3. Ensure your patients' insurance coverage information is updated.
Some medical billing denials are a result of your staff's failure to check the details of a patient's insurance eligibility. Thus, you end up filing for a claim that is not covered by the payer.
Regularly update a patient's insurance eligibility, as well as his or her basic profile information to ensure you have the most updated information.
4. Use an alert system to ensure all claims are filed on time.
There is a limit to the number of days a medical claim can be submitted to a payer. Know the grace period for this, which includes the time you will take to rework any rejections.
As needed, incorporate into your workflow an alert system that will notify your staff of any medical claim that is approaching the time limit.
5. Choose the right billing codes.
Some claims are considered reviewed but denied or reduced by the payer due to an incorrect choice of billing codes, which could either be:
Upcoding (assigning a bill to a more expensive medical procedure)
Undercoding (failure to include the services you've performed)
Insufficient code specificity
The best solution for this is to have a comprehensive patient record. This includes the laterality, severity, and accompanying conditions of the service provided. This is most helpful to your medical billing staff when assigning the proper codes to it.
About ClaimCare
ClaimCare offers a complete medical billing solution for your practice. This includes an EMR, Instant Payment Program, an upfront insurance verification, and a patient collection tool to help improve your practice's revenue. Call us toll-free at (855) 376-7631 or Contact ClaimCare to see how we can improve your profits so you can focus on medicine instead of medical billing.