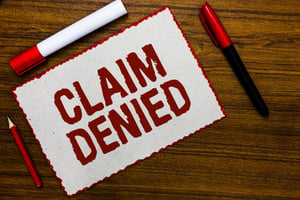 Looking back, to look ahead: With ICD-11 on the horizon for 2022, Centers for Medicare & Medicaid Services (CMS) reported in 2015 that claims were processed with fewer rejected and denied claims after the transition from ICD-9 to ICD-10. Rejections and denials are projected to decrease even more when ICD-11 takes effect.
Meanwhile, while dealing with ICD-10, many providers are confused on how to differentiate "rejected" medical claims from "denied" medical claims. This article discusses how you can distinguish the two from one another and steps on how to avoid both.
What are rejected medical claims?
These medical claims are considered unpayable and are sent back by the payer due to:
Incorrect information
Failure to meet specific data requirements
Non-adherence to the required formatting
Due to these reasons, rejected medical claims are not even entered into the computer systems of payers. Thus, they cannot be processed.
Once the error has been fixed, rejected claims can be submitted for approval. Thus, it is important for your medical biller to properly code and complete the information required by the payer.
How are denied medical claims different from rejected medical claims?
Unlike rejected medical claims, denied claims have been received and processed by the payer, but considered unpayable. Although these claims can be resubmitted, it should be done with a reconsideration request or appropriate appeal. Otherwise, it will just be denied once again costing your practice or facility more time and money.
What causes a medical claim to be denied?
Several factors can result in a denied medical claim. This includes:
Incorrect patient identifier information
Termination of medical insurance coverage
Requirement of prior authorization or precertification
Excluded or non-covered services
Requires supplementary medical records
Auto or work-related incident
Invalid CPT or HCPCS codes
Lapse of the filing date
Lack of referral on file
Thus, make sure your medical billers and coders are knowledgeable regarding the latest medical coding updates and are skilled in properly preparing your medical claims. Otherwise, you'll have instances of medical claims being denied and rejected by the payers.
How can you improve your practice's claim rejections and denial rates?
There are several ways to improve your claim rejections and denial rates:
1. Analyze and track your payer denial and rejection trends
Review the most common types of mistakes and coding errors committed by your medical billing team. Create routine chart audits for documentation and data quality. Based on this information, create a course of action that will minimize, if not eliminate, these errors.
2. Educating your medical billing and coding staff
Invest in training your staff. Provide training on how to handle claim denials and rejections appropriately.
Otherwise, consider outsourcing your medical billing to an "Experienced" and "Knowledgeable" medical billing company. In this manner, you are guaranteed that the team handling your medical billing is well equipped, skilled, and knowledgeable in completing these tasks.
3. Discuss your concerns with payers
Schedule an appointment with your payers. Discuss, revise, or eliminate contract requirements resulting in denied claims, which eventually get overturned after an appeal. This helps to clarify the requirements in order to avoid future medical claim rejections.
Are you having problems with your medical claim submissions? Do you need help processing these claims? Subscribe to our blog for more tips and updates.
About ClaimCare
ClaimCare has more than 25 years of experience in providing medical billing and coding services to various practices. Throughout these years, they have helped numerous organizations increase their revenue cycle by eliminating medical claim rejections and denials. Complete our online form or call us toll-free at (855) 376-7631 to learn more about the services we deliver.