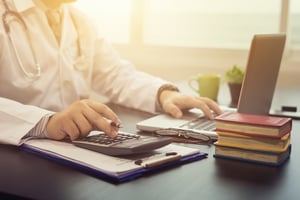 On December 15, 2015, Jason Adam Townsend, owner of a medical billing company, was indicted on healthcare fraud and aggravated identity theft charges by the Charlotte Grand Jury.
Don't fall victim to these fraudulent medical billing companies. Know how you can select a reliable medical billing company for your medical billing needs.
When looking for a medical billing company, it is important to consider the following factors:
1. Service Level of the Medical Billing Provider
What are the services provided by your medical billing company? Does this include:
Pursuing denied claims
Billing follow-up
Complying with industry regulations
Reporting and analysis
Ensure you discuss these matters with the company before signing up for any of their packages. Doing so will confirm if they are the right service provider for you.
2. Years of Experience in the Industry
How long has the medical billing service provider been in the industry? On what medical specialties do they focus?
These are important questions to consider when choosing a medical billing service provider because it shows if they are knowledgeable in the following areas:
Current medical coding system and medical terminology
Insurance claims and billing, which includes the appeals and denial process, as well as fraud and abuse detection
Information and web technology
Reimbursement practices
3. Knowledge with the Use of Technology
One of the aims of medical billing is to accomplish more tasks with less time. This is done through the use of sophisticated billing software. But, it does not mean having to work on an entirely new system altogether.
While most medical billing companies have their own billing system, very few have the capacity to work with the existing system used by an organization. Thus, you are forced to migrate your data into their own. However, this makes the transition process longer and more complicated.
Rather than migrate your data into a new one, you may prefer a medical billing company like ClaimCare that can work in your current billing system. In this manner, you don't have to worry about your data being transferred into a new system.
Thus, it is important to ask them the following questions:
Are they willing to work in your current system?
How knowledgeable are they with other billing systems?
How long will it take to integrate with your billing system?
4. Security and Compliance
According to the National Healthcare Anti-Fraud Association NHAA, approximately tens of billions of dollars are lost to health care fraud. This makes it one of the most challenging problems among medical providers.
Avoid being a victim. Carefully select your medical billing company by inquiring if they perform one or more of the following safety precautions:
Annual background checks on their employees
Monthly annual checks with the OIG for excluded employees
Anonymous methods on how to report employee violations
Health Insurance Portability and Accountability Act (HIPAA) training
Dedicated compliance officer to ensure your data remains protected
This will help you assess how much these medical billing companies value the confidentiality of all your records.
5. Medical Billing Service Efficiency
Check the performance of the medical billing companies you're considering. Identify how much of the denied claims and fee collection they are able to deliver by asking for the following data:
How many of their current clients match your specialization?
How many claims do they process each year?
It is also helpful to know the following information:
Percentage of reduced payment delays
Increased revenues they deliver to their existing clients
Average number of days in A/R by specialty percentage
Utilize all of this information when choosing a medical billing company. Remain updated with the current medical billing trends and issues. Subscribe to our blog or call us at (855) 376-7631 for any of your medical billing concerns.
About Claimcare
ClaimCare has more than 25 years of experience in medical billing. It has a proven track record of increased customer collection reaching all the way up to 25% (the average increase is approximately 5%) and days in AR under 40 for your collectibles.