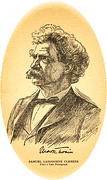 Mark Twain is attributed with saying, "The reports of my death are greatly exaggerated." We at ClaimCare can now relate to how he must have felt! A small company by the name of Claim Care that helped patients with denied claims (
and not associated with us in any way
) closed their doors in September 2010. We were not even aware of the group until someone phoned us this week to see if we were still in business.
Be assured – ClaimCare is alive and well – and going strong!
Not only are we alive and well – we are continuing to keep on the cutting edge of information and key technologies to collect the maximum allowable revenue for our clients while alleviating costs and hassles for their offices. We look forward to continuing to serve all of our existing and new clients in 2011 – and beyond!
_________
Copyright 2010 by Carl Mays II. Carl is President and CEO of ClaimCare Medical Billing Service, one of the largest medical billing companies in the United States.