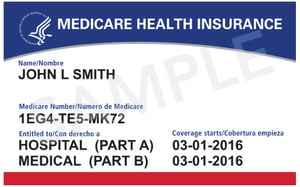 On October 17, 2019, the Centers for Medicare & Medicaid Services (CMS) sent this reminder:
New Medicare Card: MBI Transition Ends in Less Than 10 Weeks.
ClaimCare posted a blog back on September 17, 2018, titled Top Three Impacts of Medicare ID Card Changes on Medical Billing Services. You can review the 2018 post and see that it covers several important points and then goes into some detail regarding:
1. Eligibility Verification of the New Medicare ID Card
2. Coordination of Benefits with the New Medicare ID Card
3. Submission of Medical Claims Using the MBI
Since the transition period that began April 1, 2018, CMS has posted quite a few notices dealing with clarifications and revisions to the initial announcement.
Previous CMS announcements in 2019 include the following:
September 26: New Medicare Card: More Questions about Using the MBI?
September 19: New Medicare Card: Why Use the MBI?
August 08: New Medicare Card: Will Your Claims Reject?
July 25: New Medicare Card: Questions about Using the MBI?
June 20: New Medicare Card: 75% of Claims Submitted with MBI
March 28: New Medicare Card and MBI Adoption: How Do You Compare?
March 06: MBI Look-Up Tool Can Be Used With Medicare Advantage Plans (PDF)
January 10: New Medicare Card: Transition Period Ends December 31
If you review these announcements, you will see that the majority of practices and facilities have already made the necessary changes, with many tweaking things along the way. Some, after having claims rejected, are learning more about the process. Others have assisted their patients in making sure they have the new cards and have educated them on why the change in cards became necessary.
If you still need help with the transition in any way during these final weeks prior to the mandated deadline of January 1, 2020, ClaimCare can provide that help.
In all medical billing areas, ClaimCare:
· provides the top service level guarantee in the industry
· offers best-of-breed technology,
· is based 100% in the U.S.A.
· has an air-tight medical billing process
· provides actionable reporting and broad experience
· can work on its clients' medical billing systems.
Healthcare Tech Outlook named ClaimCare as one of the nation's "Top 10 Medical Billing Companies" in 2019. This honor follows previous such honors, including being ranked in the "Top 5" by the online magazine, Money & Business. ClaimCare has a proven track record of increasing client collections by 10 to 20 percent.
For more information contact ClaimCare Medical Billing Services by email at sales@claimcare.net, by phone at (855) 376-7631 or visit the ClaimCare Medical Billing Company website.