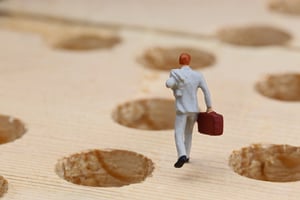 Beckers Hospital Review has revealed that just a month in delay on an average primary care physician's medical credentialing can cost your practice $30,000. This could even be higher for specialists who handle orthopedics and cardiothoracic surgery.
Avoid this loss from happening to your organization. Learn the common issues associated with medical credentialing and how to solve them.
1. Lack of Organization and Bad Workflow
An efficient workflow will help you avoid medical credentialing problems and delays. Create a workflow to avoid lost money in handling appeals and reimbursements.
Hire an office coordinator who will be:
In charge of your physician's documentation process
Send reminder texts and emails for documents that are not yet submitted
Neatly compile these credentialing documents for easy retrieval
This will help lessen human error in your workflow. Thus, avoiding the need for a re-credentialing process, which will only lead to a longer medical credentialing process.
2. Lack of Timing and Physician Start Dates
It's good to be optimistic, but with medical credentialing it is best not to put things at a minimum, especially with estimating the time needed for the approval of your physician credentialing request.
Gather all the needed credentialing paperwork on the day the employment offer is given. As needed, extend the start date of your new physician to a maximum to ensure you have properly reviewed and verified all of his or her credentials before joining your organization.
3. Private Background Checks and Maintaining Updated Contact Information
Medical credentialing is never easy. Payers will certainly use anything that can deny the payment claim. Therefore, it is important for your organization to diligently perform a private background check on your physician.
Verify the validity of all the forwarded documents including:
License
Training
Employment history
Most importantly, ensure the submitted contact information is up to date. The medical credentialing process may take a while, approximately 6 weeks to 3 months. Thus, it is important to know how you can contact them if any additional documents are needed by the payer.
4. Adhering to All the Needed State Requirements
Be reminded that states vary with their needed medical credentialing requirements. Additional credentialing requirements may still be necessary even if the physician has successfully been credentialed in another state. Therefore, it is better to check on reciprocity agreements with the payer organization and the state before agreeing to immediately accept the physician into your organization.
Improve your organization's cash flow while providing quality healthcare to your patients. Do not let obscure state laws cause your office to lose productivity. Understand the laws of your state to make your medical credentialing process faster and easier.
Do you have more questions about medical credentialing? Subscribe to our medical billing blog or complete our online form for any of your queries and concerns.
About ClaimCare
ClaimCare is one of the largest medical billing and medical credentialing providers in the United States. Its entire medical credentialing staff are thoroughly screened, well trained, and provided with the best tools and proper incentives to ensure you are given the best services. For more information about the services we deliver, phone (855) 376-7631.