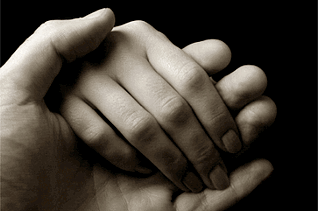 On the occasions when I tell Jean something such as, "I'm going to the post office, drop by the pharmacy, then on to the bank, and I may swing by the hardware store on the way back," she often replies with something like, " Well, maybe I'll see you again today." She knows when I "go out" there is no telling how many people I will run into and strike up a conversation with - and just how long I may be gone - unless I have a definite time by which I must return.
But I don't plan these encounters. I just know that when I do run into people and they want to talk, or they look like they need someone to talk with them, to give them some acknowledgement, or maybe a "pick-me-up," I feel that if conversing with them can make a difference in their days then I want to do it, with no second thought. And, I usually enjoy it.
Og Mandino (1923-1996), author of "The Greatest Salesman in the World" and other best sellers, was an early mentor who wrote one of the first testimonials for my "A Strategy For Winning" book. We shared the speaking platform a few times, and something I recall Og saying is, "Beginning today, treat everyone you meet as if he or she is going to be dead by midnight. Extend to everyone all the care, kindness and understanding you can muster, and do it with no thought of any reward. Your life will never be the same again."
Og's words came to mind and this column was inspired by the recent death of Dave Baker, co-owner with brother-in-law Larry Cole of Five Oaks Tire and Service in Sevierville. I was behind on getting the tires on one of my vehicles rotated and balanced. Due to a heavy schedule I had been putting it off. When I finally phoned early Tuesday morning, July 14, and Larry answered, I said, "Hi, Larry, this is Carl. How's it going?" There was a pause, and then Larry replied, "Pretty good," in a manner that was rather un-Larry-like. I said, "Well, I'd like to see if it might be possible for me to bring my truck over for rotation, balance, and maybe check the alignment this morning."
There was another pause before Larry replied, "Well, Carl... here's the situation..." I thought he was going to tell me about a big work load or something like that. But Larry continued with, "Dave died Saturday..." The pause was mine this time. Larry went on to say, "We're closing today at noon, the funeral is tonight, and we won't be open tomorrow." Of course, all thoughts of tires and rotation left my mind completely and I told Larry so. We talked about Dave's sudden, truly unexpected death. (Later, I discovered it was determined to be caused by a dislodged blood clot that probably formed about 38 years ago when Dave broke his leg in an automobile accident.)
Larry and I discussed the situation for a while. Larry then said, "Dave was talking about you just last week, saying it has been a while since you were over here..." Jean and I attended the funeral that evening, both still in shock, as were many people. And I kept thinking about how I put off getting my truck serviced and had not seen Dave in a while, and how I will miss talking and laughing with him, and exchanging "war tales" that he and I enjoyed telling each other so much. Og Mandino was right. You never know.
______________
About our guest Blogger:
© Carl Mays, father of ClaimCare CEO Carl Mays II, is an author and speaker at over 3,500 events. Contact Carl at carlmays@carlmays.com or 865-436-7478. His motivational speaking and book information can be found on http://www.carlmays.com/. The Student Mentoring site MyMerlin.Net for students and others is based on his book and program, "A Strategy For Winning."