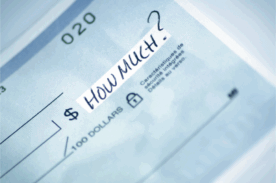 A recent survey of 1,279 physician practices, medical billers and billing offices released June 15, 2009 by NaviNet Inc., found that 49% were unable to estimate the amount due at the time of care, other than predetermined co-pay. As a result according to McKinsey & Co.
doctors collect only about half of the balance due from patients
and that this translates to $14 billion to $30 billion in bad debt annually.
Collecting at the time of care is growing in importance as even insured patients are increasingly on the hook for an ever-larger share of costs. In 2008 the average patient deductible grew by approximately 10 percent. In 2009 the deductibles grew by 15 percent. This is a trend that physicians cannot ignore. They need a way to economically and reliable collect the money patients owe.
The good news is that such a tool is available. ClaimCare provides its clients with a patient collection tool that can attack the root of the problem - not knowing before the patient leaves the office how much the patients will owe for the service provided. In addition, this tool provides enhanced payment options to collect the money owed.
Our clients indicated that in many cases it has doubled or tripled their front desk collections. This patient collection tool can:

Confirm the patient's eligibility coverage and benefits, including YTD out of pocket status before the patient is seen;
Provide accurate estimates of patient out-of-pocket expenses for specific services (your selected CPTs) against a provider's contracted rates for the particular plan;
Generate a detailed, patient-friendly statement on the spot that shows the amount the patient will owe once the claim adjudicates; and
Set up automated payment plan for patients that cannot afford the full amount due.
This means that your office can know how much a patient should pay before they ever leave the office and collect the money when the value you have provided is fresh in the patient's mind.
For the average practice, 20 percent of the money they are owed is due from patients. If you are currently leaving 50 percent uncollected (like most practices) then a tool like this can increase your practice's revenue by 10 percent.
About ClaimCare Inc
ClaimCare Medical Billing Services stands out from the crowd of medical billing companies. ClaimCare offers a complete medical billing solution, has the only service level guarantee in the industry, offers best-of-breed technology, an air tight medical billing process, actionable reporting and broad experience. For more information contact ClaimCare Medical Billing Services by email at sales@claimcare.net , by phone at (877) 440-3044 or visit the ClaimCare Medical Billing Company website. ###